How to Write an Essay: A Complete Guide for ESL Students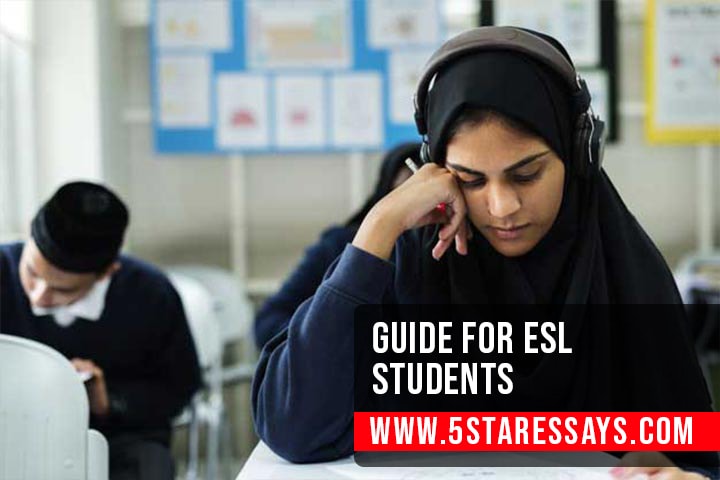 Are you an ESL student residing in America, the UK or Australia?
Do you struggle with communicating your thoughts and ideas in writing?
You are not alone and we are here to help you understand how to write a good essay.
If you find yourself staring at a blank screen or paper, not knowing what to write and how to begin your high school or college essay then you can learn it here.
For students with English as a Second Language (ESL) writing an academic essay or paper and competing with natives is always a challenge.
They may have the other elements of English language usage (speaking, listening and reading) covered, writing remains a challenge for many.
Essay writing is fundamental at the secondary and post-secondary levels, but without good writing skills, ESL students are at a serious disadvantage.
1. How to Write an Essay Outline?
Wondering how to start an essay?
Before you start writing, make an outline. Although there are different steps to write an essay and ways to start it. But the basic essay outline structure applies to all essay types.
However, the length of the central body paragraphs may differ for complex and longer essays. A typical short essay is commonly known as a five paragraph essay format and it follows the following basic structure.
| | |
| --- | --- |
| Paragraph 1 | Introduction |
| Paragraph 2 | Body 1 |
| Paragraph 3 | Body 2 |
| Paragraph 4 | Body 3 |
| Paragraph 5 | Conclusion |
Learning to write an essay outline may be difficult but not impossible. As an ESL students it will be a bit difficult but with practice and hard work, you can do it.
1.1 How to Write an Introduction Paragraph for an Essay?
An introduction paragraph is the first paragraph of your essay. Sometimes it tends to be a bit tricky.
The purpose of the introduction is to inform your reader about the topic that you will discuss in the essay. State it simply and clearly.
A good introduction paragraph should contain the following things:
It should grab the reader's attention and convince them that it's worth their time to go through the whole essay.
A few sentences explaining your topic in general terms
Provide some relevant background
Introduction paragraph should not be too broad
How to Write a Thesis Statement for an Essay?
A thesis statement is a brief one, or two sentence highlighting the main idea of the essay.
"The opioid crisis can only be solved by the government" is a thesis statement. Everything that follows will either support your thesis statement or or contradict it.
You can learn here how to write a strong thesis statement and structure your essay around it.
What is an Essay "hook"?
The opening sentence of the introductory paragraph is called an essay hook. A hook is a well-written sentence that creates an impact on your readers and compel them to read further.
Various forms of essay hooks work as a good idea for your introductory paragraphs: quotations, stories, jokes, phrases, facts, historic dates.
Pointless, boring, or obscure introductions can make the reader lose interest and quit the essay in the beginning. To have a solid essay hook, research and revise your statement until you get the desired and catchy hook.
1.2 How to Write the Essay Body?
Body paragraphs are the linking paragraphs between the conclusion and introduction and you will add all the content of the essay here.
Use consistent arguments and points of view throughout the body of your essay and make sure that you add a topic sentence and a single idea in each paragraph.
For example, if your essay topic is "Causes of Global Warming," then one cause should be stated and elaborated in one paragraph. Additional causes should be discussed in the following paragraphs.
When you want to express a contradictory opinion or perspective, write it in a new and separate paragraph. Do not opposing ideas in the same paragraph, it will only minimize your essay"s effectivity.
Use transition words to lead the reader from one idea to the other. Effective phrases include: in between, for example, in addition to, moreover, furthermore, firstly, lastly, however, etc.
1.3 How to Write a Conclusion for an Essay
The conclusion is the ending paragraph that summarizes your main theme of the essay and its outcomes.
In the concluding paragraph, you should include any call for action ("Based upon all the evidence, we should impeach the sitting President") and offer your final opinion in the light of all arguments that you have given in the body.
Again, make sure that it is appealing and leaves an impact on the reader"s mind by using active voice in the present tense with proper vocabulary used in context.
2. How to Write Different Essay Types
There are several different categories of essays, each with its unique requirements:
2.1 How to Write an Argumentative Essay
An argumentative essay explains both sides of an argument and the main topic.
Similar to other essays, this involves the use of an introductory paragraph, body paragraphs and the conclusion.
The topic you choose for an argumentative topic must be well-researched. The tone of the essay must be persuasive, so the reader understands and is persuaded to agree with your point of view. To convince the reader make use of supporting facts and evidence.
However, they are different from persuasive essays.
2.1.1 Argumentative Essay Example
Argumentative essay is the perfect way to inform and convince your reader of an idea or opinion. Following is an example to help you better understand the whole structure and main idea of the essay.
2.2 How to Write an Analytical Essay
Analytical essays are a variation of argumentative essays, but more explanatory in nature, with all points addressed clearly and in an understandable way.
The subjects in these essays include topics from the liberal arts (as opposed to data-driven scientific research) and can be performed on any work of art like movies, plays, literary works or historical events.
The analysis should be in-depth and in simple and straightforward language. Like compare and contrast essay, it analyzes the main topic.
2.2.1 Analytical Essay Example
Writing an analytical essay can seem quite daunting. Here is an example to learn how to write an analytical essay that have a deeper meaning than the actual meaning of the words.
2.3 How to Write an Expository Essay
When writing an expository essay, the topic is examined in depth with the aim of increasing the reader's understanding of the topic. Everything discussed in this type of essay must be supported with researched and credible facts and proofs.
It is somewhat like a narrative essay but may or may not have storytelling elements in it.
Expository Essay Example
When writing an expository essay, it is important to know the deeper side of your chosen topic. Check out our expository essay example to better understand the whole process of writing.
2.4 How to Write a Process Essay
Process essays are fundamentally informative-instructive essays. The subject involves directions for the reader to complete a process.
It involves detailed steps and overall process. It is common in educational and instructive type of documents.
As you can see, writing an academic essay, particularly for an ESL students, can be both difficult and time consuming. They may not be fluent in English grammar and lack the required writing skills.
Process Essay Example
Process essays are a special type of academic papers. This type of essay details a process from its beginning to end in a very organized manner.
Here is a perfect essay example to learn more about writing process essays.
2.5 How to Write a Literary Essay
A literary essay or a literary analysis essay, interprets, examines and evaluates a particular work of literature. It can be anything from a novel, book to a play. The aim is to find out the hidden meaning of the original text and analyze it.
If you want to understand what is literary essay, then go through this example.
3. Common Mistakes to Avoid When Writing an Essay
Being a native does not mean that they do not make mistakes but because it is their "own" language, chances are that they will make much less mistakes. As an ESL speaker, your chances of making mistakes are higher.
However, you can avoid them by working on some basics. Below we have mentioned some common errors made by the non-natives.
Using passive voice
Adding complex sentences
Adding improper or no transitional sentences
Plagiarism
Failing to follow the assignment instructions
Ignoring pronoun subjective-objective agreement
Improper or missing citation references
Citing unreliable resources
With these essay tips, you will find writing to be a much more fulfilling experience.
Getting Writing Help
Getting help from 5StarEssays professional and native essay writers is the best way to learn how to write an essay. The examples you"ll see when working with an essay writing service will teach you exactly what you need to know when it comes to your next essay writing assignments.
Order your essay now.