Essay Format: Detailed Writing Tips & Examples
Essay writing is an inevitable part of a student's life. Students dread it the most as they get overwhelmed with the thought of crafting several essays in a short amount of time.
What students don't realize is that writing a good essay isn't as difficult as it sounds. Academic essays are a product of grouping different ideas, arguments and presenting them logically with the help of a format.
However, there are some generalized guidelines that we will be discussing in this blog.
What is an Essay Format?
A proper essay format defines a set of guidelines that will be used to create an overall structure and how the elements of your paper will be arranged. A standard format follows a linear approach where each idea is presented to make it more reader-friendly. If you learn how to structure an essay effectively, half of the work will be taken care of.
The essay structure dictates the information presented to the reader and how it will be presented. Your professor defines the essay format that needs to be followed, as it is unique for a different essay
Formatting an Essay - Standard Guidelines -
To format an essay properly, you must have a proper structure, including an introduction, thesis statement, body of your essay, and conclusion. Also, a title page, works cited page, text capitalization, proper citations, and in-text citations using MLA or APA format.
Here, we have discussed the standard essay formatting guidelines that you should follow.
The one-inch margin on all sides of the page.
Line spacing (e.g., single spacing or double spacing).
Specific font style and size like New Times Roman 12pt.
Page headers containing the author's last name, page numbers, and essay title.
Heading and subheading.
The indentation should be half an inch.
How to Format an Essay Title Page?
When writing a paper's title page, keep in mind the following guidelines for different formatting styles:
MLA Style Essay Format
Use double-spacing. Do not single-space your page
Use 12 pt. font, Times New Roman font style
Write your high school/college name centered and top
Title of your essay, centered. Followed by a subtitle
Your name, course name and number, your instructor's name, and the submission date
APA Essay Format
Running head - TITLE 1 (written in ALL CAPS)
1" margins from all sides of the page
Times New Roman, 12 pt. size font
Title of your essay
Your name
Name of your institute
Chicago Essay Format
Center the title of your research paper.
Center your name directly under the title.
Your teacher's name, the course title, and the date should be written in three lines.
Use Times or Times New Roman 12 pt font
Do not put a page number
Formatting the First Page of an Essay
Consider the following tips to format the first page of your essay.
Add the header to write your last name and the page number. The header goes on the right-hand corner of the page, leaving half-inch space from the top. This holds for all pages of the essay except for the works cited page.
In the upper left-hand corner, state your name, instructor's name, followed by the course, and the date.
Write the title in the center.
Use double-space and start writing the essay.
Essay Outline Format
A typical essay is a five-paragraph essay with an introduction, body, and conclusion. Here, the body comprises three paragraphs that hold the main argument, ideas, and supporting evidence.
Once you get the hang of crafting such essays, writing longer, complex essays will become simpler. A 5 paragraph essay format looks like this:
Introduction
Start your introduction by introducing your topic, provide some background information on it.
Use a linking sentence to connect it with the thesis.
Your thesis statement should provide a description of the paper and the main argument.
Keep the font size 12, Times New Roman.
Body Paragraphs
In each body paragraph, highlight and discuss a separate idea. Start with a topic sentence and provide supporting facts and evidence to support it logically. And indent the first line of every body paragraph.
Conclusion
In this section, you summarize the entire paper and restate the thesis statement. Avoid introducing new ideas at this stage of the essay. Instead, give the reader something to ponder over or a call to action.
Don't forget to add the header and the page numbers to every page.
Have a look at the detailed blog about the essay outline to give you a better understanding.
How to Cite an Essay?
It is necessary to cite different sources when using someone else's words in your paper. It could be in the form of a direct quote, paraphrased, or summarized text. To avoid plagiarism and show the reader the authenticity of what you are talking about, you must cite your sources.
There are different citation styles and rules. Make sure to use the one specified by your teacher.
Here we will discuss in-text citations in APA and MLA format. With in-text citations, the sources are cited within the body paragraphs. Let's have a look at how it is done:
APA Format
Author or publisher's last name, followed by the date and paragraph number.
List the author name or publisher, date, and page number.
Include a comma after the author's name and date.
For example,
"Darwin's theory of evolution is false and inconsistent. (Taylor, 2018, p. 5)."
MLA Format
Mention the author's last name.
It is followed by the page number.
For example,
"Darwin's theory of evolution is false and inconsistent. (Taylor, p. 5)."
Chicago Style Format
Mention the first name of the author, followed by the last name.
Mention the title of the essay after this.
For example,
Albert Einstein, The Meaning of Relativity, (p. 44–45).
To know more regarding the differences between these two citation formats, we have a detailed guide on APA vs. MLA that will help you clarify the concepts further.
How to Draft the Works Cited Page?
Once you are done writing your essay, the last page is for the works cited. Here you enlist all the sources used to write the essay.
Arrange the sources in alphabetical order.
Use double spaces for the entire list.
Use hanging indention.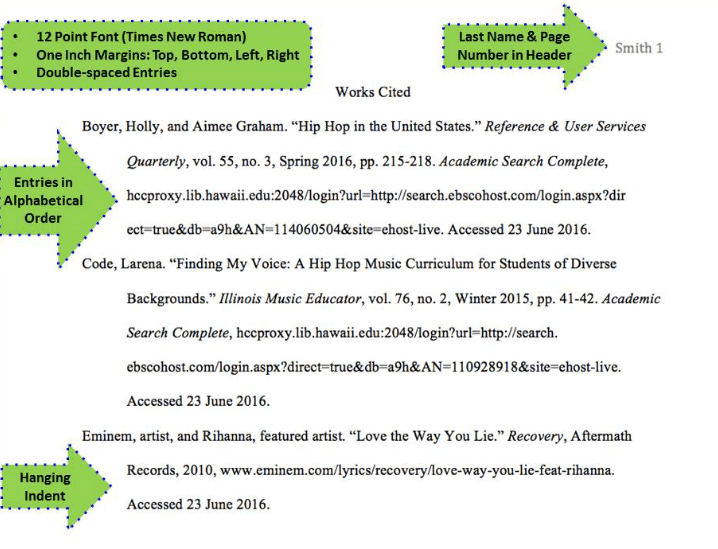 Essay Format Examples
To increase your understanding of the format required for different essay types and formats, we have added a few examples. Below are sample essays with the proper essay format that you can use.
If you are still confused about the essay writing format, it is advisable to seek professional assistance. The expert essay writers at 5StarEssays.com are equipped to draft an essay according to different formatting styles.
All you have to do is to reach out to them and request 'write my essay.' In return, you will get an A grade-worthy paper in no time.
Place your order now and get rid of all your academic worries.