How to Write a Conclusion - Examples & Tips
A conclusion is the last part of every kind of writing assignment or project. A good conclusion paragraph can help you leave a lasting and strong mark on the readers' minds. Knowing how to write an engaging and impressive conclusion can make your writing better.
Most students are in such a hurry to finish writing their paper that they often don't pay attention to the last paragraph and conclude it abruptly. What they fail to realize is that essay writing isn't just about the body paragraphs.
To help you understand the importance of a good conclusion and write one effectively, we have discussed various aspects of writing a conclusion.
What is a Conclusion?
A conclusion is the final paragraph of your essay, research paper, or any other piece of writing. With this paragraph, you sum up the important points of the essay and restate your thesis statement.
Moreover, this section gives the readers a sense of closure and gives the writer the last chance to leave a final impression and persuade the audience to agree with his point of view.
The impression that you make in the essay conclusion stays with the reader. So use this chance wisely and remind them of the importance of your topic and why it matters.
The example given below will help you see what makes a good and strong essay conclusion.
What if the only way to survive was by sharing? That seems like an impossible choice, but in the 600s C.E., civilization X survived because this idea of inclusion and not exploitation powered them through tough times.
Artifacts from that era demonstrate how they viewed their culture as something worth preserving for everyone's sake—it included things such as military items or household objects. It shows that they knew the value of sharing for mass survival. Civilization X knew and believed that sharing household and military objects will ensure survival for everyone.
But to make it available for a few would result in survival for a short span of time.
Writing a conclusion does not mean simply repeating all the points but providing a broader implication of the discussed topic while sticking to the main idea.
How to Write a Conclusion Paragraph?
When writing the concluding paragraph, you must think of the final point you want to share with the reader and leave them with something to ponder over. It wraps up the paper and shows the reader what you have accomplished with your essay.
A good conclusion talks about the essay or paper's main points, discussed in the paper in a larger context, and concludes them effectively. The following steps are the same for all kinds of essays and research papers.
Here are the steps to write a good and engaging conclusion for your essay or paper.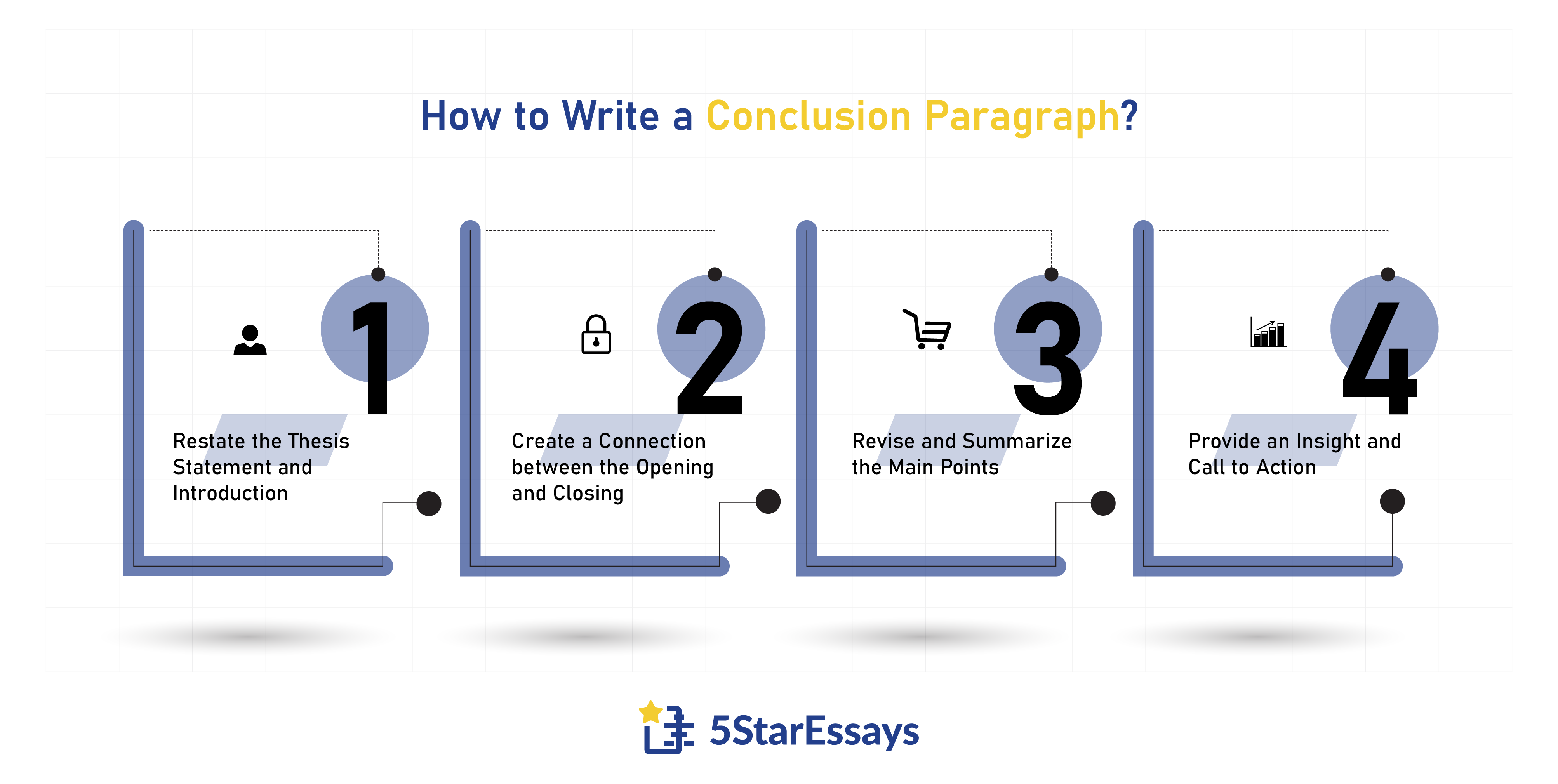 1. Restate the Thesis Statement and Introduction

The best way of beginning your conclusion is to revisit the thesis statement and introduction of your paper or essay. Take help from the introductory paragraph to conclude an essay. Tweak it a little and add the main idea you have discussed in the thesis statement and use it as your conclusion.

Your essay should be like a full circle; you must end where you started it from.

2. Create a Connection between the Opening and Closing

Returning to the main points given at the beginning of the essay or paper. To write a strong introduction, it is important to learn how to start an essay effectively. It is also important to keep your readers hooked on your writing.

When concluding, link the ending of your essay or paper to the introduction and thesis statement to create consistency and flow.

3. Revise and Summarize the Main Points

If you've written your essay on a complex topic with more than three body paragraphs, it is useful to go through all of them again to get a better idea. Take the crux of each paragraph and rewrite it in the concluding paragraph.

Do not simply summarize only; the concluding paragraph gives you a chance to highlight the importance of the issue at hand. For example, if you've mentioned the different causes of obesity in your essay, your concluding sentence should sum up these reasons.

4. Provide an Insight and Call to Action

To leave a strong impact on your essay, give the reader something to think about even after they're done reading your paper. Suggest some course of action, encourage them to think deeper about the issue, or do something about it.

For example, you can conclude your essay by saying, "There is a lot that can be done to fight obesity. Start by downloading an app and counting your calories."

The impact of your work depends on your conclusion and how you choose to write it. A strong conclusion takes time, but it is important not to want to end up with a poorly written essay and a low grade.

For example, you can conclude your essay by saying, "There is a lot that can be done to fight obesity. Start by downloading an app and counting your calories."
Helpful Conclusion Examples
Here are some good conclusion examples;
Research Paper Conclusion Example
'How to write a conclusion for a research paper?'
Here is a research paper conclusion example that begins with restating the problem discussed in the paper and ends with a call to action.
By now, the role of cattle in climate change has become common knowledge. Still, some countries like the Netherlands fail to face and resolve the issue. It is clear that to have a better and improved agricultural sector, the Dutch farmers should transit from traditional livestock farming to sustainable vegetable farming methods.
Plant-based agriculture will not only help in minimizing the carbon footprint and if approached in the right way, but it would help in producing more food also. The requirement of land would also minimize, giving more time to nature to rejuvenate and replenish.
Though this transitioning may result in economical complications, it would have a better effect on the national economy. Transitioning to a sustainable farming method would make the Netherlands greener while setting an example for other European governments. Farmers, consumers, and policymakers must have a long-term vision rather than focusing on short-term and personal goals.
Research Paper Conclusion Example
'How to write a conclusion for a report?'
Reports are written for various purposes. Some of those purposes include gaining better insight into a matter and encouraging the readers to take action. It includes book reviews and reports also.
Here is a sample report conclusion;
Aviation history is full of significant events that have shaped our world today. These stories are chronicled by people who made it happen and correlated with global affairs, giving an interesting look into how aviation has impacted society as well.
The colors and pictures in the book make this book come alive will keep readers engaged while they learn more about what was happening back then. This makes the book interesting and less dull.
The author's enthusiasm for the topic shines through in this book. More thorough proofreading could help alleviate some of the confusion caused by typos and a few mislabeled illustrations, but it doesn't stain the book's credibility. These mistakes are easily fixed with just one more update.
Thesis Conclusion Example
'How to write a conclusion for a thesis?'
Some people with Autism Spectrum Disorder are prone to repetitive motions such as flapping their hands or exhibiting other similar behaviors. The purpose of this research was to identify effective strategies for dealing with these individuals' repetitive movements through behavioral modification therapies that have been found beneficial in reducing them.
Finally, we can put an end to this endless cycle of the drill. The research team has found that there are many ways for individuals with repetitive motions in their autism spectrum disorder. Future exploration into these strategies could lead us down the path towards more effective therapies and help improve others' lives too.
Argumentative Essay Conclusion Example
'How to write a conclusion for an argumentative essay?'
The internet has had an immensely positive impact on the world of education. It is evident in numerous applications, such as communication and interactivity between teachers/students that are otherwise miles apart from one another geographically - all thanks to digital learning tools like Skype or FaceTime which allow for this type of connectivity.
The future lies with possibilities opened up by these advancements; we can only hope they will be fully embraced by educators who deserve every opportunity at success just like their students do. The downsides? They're already covered extensively through skeptical analysis alone.
It is high time that we focus on what goods and advantages it could offer for other sectors also.
Persuasive Essay Conclusion Example
'How to write a conclusion for a persuasive essay?'
Physical education has been proven to be an essential part of our daily lives. Students need it from a young age so that they can learn not only how important exercise is in their future but also what types and when, why we eat certain foods as well as making healthy choices for ourselves based on knowledge about our bodies needs.
Through this class, teachers will provide them with all the information needed for proper nutrition which includes learning basic skills such as playing various sports or games while giving you hands-on experience running around outside having fun!
Tips to Write a Good Conclusion Easily
Here are some tips to write an effective and great conclusion;
End the essay and conclusion with a positive note.
Remind the importance of your idea or research question.
Link back to the themes discussed in the introduction.
Summarize the main points without repeating them.
Propose a course of action and implications of your arguments.
Do not introduce any new information at this stage.
Don't include every single detail shared in the body.
If your essay isn't in the first person, don't end with your personal thoughts.
Avoid using sentences such as "I'm no expert, but this is my opinion…"
Don't start with phrases such as "To conclude, to sum it up, in conclusion…"
Don't share any evidence in this section that should've been stated in the body.
A strong and effective conclusion paragraph is an integral part of your essay; it helps make sense of the entire paper. But it must not open discussion for more ideas, themes, and evidence. Ineffective conclusions bring the readers to no clear topic understanding.
Following all these tips, you will be able to write a memorable and impressive conclusion for your assignments. These closing sentences must demonstrate the importance of the paper topic and leave the readers with a clear understanding.
If you're still confused, talk to the essay experts at 5StarEssays.com and get 'write my essay' service any time. Just reach out to them, and they will help you come up with the perfect essay at the most affordable rates.
Order now.
Frequently Asked Questions
How many sentences are in conclusion?

Usually, a conclusion is two to three sentences long. The aim of a conclusion is to conclude the main ideas and not to introduce any new points for the readers.

What is a concluding sentence in a body paragraph?

In a body paragraph, the last line is the concluding sentence. It provides closure to the paragraph and connects all the ideas together. However, it does not repeat any ideas and transits to the next section or paragraph.

Can you have quotes in your conclusion?

Ideally, no, you must not place any quotes in the concluding sentence. However, quotes could be added here only when you are referencing someone.

Paper Due? Why suffer? That's our job! Click here to learn more.