How To Write A Research Paper - Guide & Example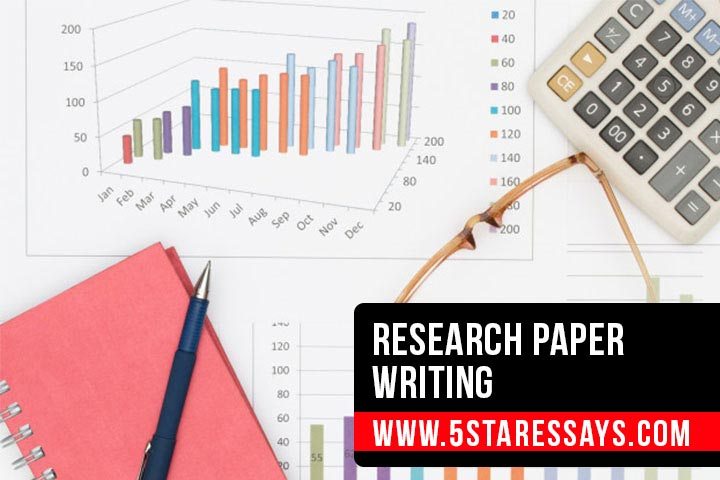 Writing a research paper is not that scary. However, you need to have a strong grasp of the style fundamentals that make up such a paper, and great writing skills, of course.
You might be assigned a research paper on a challenging topic as a part of your high school or college coursework. Generally, the main purpose of the paper is to evaluate your research abilities and writing aptitude.
How often have you spent countless hours on researching for writing tips? Is a difficult topic bugging you into the writer's block? Well, worry not! We've got you covered with our comprehensive guide below that will help you understand how to write a great research paper.
1. What Is A Research Paper?
A research paper involves comprehensive study or research about a particular topic and it's analysis. The paper involves evaluating a research topic and proving your stance on it through relevant and persuasive arguments and findings. Such a paper is aimed at evaluating a student's academic knowledge and their potential to undertake research.
Writing your paper for a research-based topic requires you to put in effort for investigating the topic better and finding relevant supporting arguments. It basically involves studying a specific academic subject and highlighting your research work through relevant factual arguments and supporting evidence.
A research paper could be a doctoral thesis, a master level dissertation or an independent term paper. Before you start with a research paper, you need to submit a research proposal. A research proposal conversely is more like a pitch used to convince your reader of the value of your research. Continue reading to learn how to write a research proposal.
You need to be well aware of the basics of the writing process for a research paper. These fundamentals are the basics and make an accepted and accredited paper structure. Aside from an interesting theme, the paper must follow a coherent structure. It should organize and present your research effectively in a logical sequence.
Since it involves detailed research, aspects like the tone, word choice, clarity and readability must be given due attention. Your paper must conform to your instructor's requirements for works cited, general level format, style guide and logical flow.
An impactful research paper that's well-crafted is guaranteed to help you in getting ahead in your academics. It will also aid in your professional life. It showcases your intellectual abilities and potential for excellence.
2. How To Start A Research Paper
You need to consider a number of factors before you begin writing your research paper. These include:
Your researched material
The arguments and points of your paper
Your audience (professor, other researchers, casual readers, experts and decision-makers)
Purpose of the research/study
Start by picking an interesting topic. A brilliant research paper will always feature an exciting theme or topic, something that will instantly draw the reader in. Difficult themes like Psychology based topics for your research paper or Political Science concepts require a bit more research and diligence.
Make sure you choose a theme that challenges and inspires you. Avoid choosing broad topics. Instead, narrow down your theme to get an exciting idea that will motivate you as a writer and your readers.
Go for a narrow concept and break it down , for example,' technology' to 'applications' to 'mobile apps'. Opt for a subject that you can easily write about and has a wider scope for research and analysis.
Here are a few ideas and research paper topics you can choose from.
3. Focus On The Research Process
How to start a research paper? With some study and research you can do it. Your research paper should reflect high standards of academic writing and analytical skills. However, it is vital to dig deeper into the research process and create a valuable research paper.
The more comprehensive your research, the better your chances of extracting insightful arguments and strong supporting evidence.
Always make sure that you use trusted sources for gathering information for your paper. These should be authentic references like blogs, publications, journals, e-papers and field reports.
Detailed research helps your writing process in several ways:
Understanding your theme or topic better
Creating a research question
Organizing your paper in a logical flow
Formulating ideas effectively for the perfect impact
Writing a thesis statement that impresses your teacher
Discussing your topic with clarity and authority
Before your begin, discuss your topic or a difficult theme with a friend or your professor for better understanding. You could get expert feedback from social communities online and other credible sources like:
Online encyclopedias, tutorials and databases
Books, newspapers and periodicals
Reports, guides and government publications
Related blogging platforms and article repositories
Vertical files, dictionaries, guides
While you're conducting your research, it is suggested that you take notes of important facts and information and keep a check on your sources. You'll need these later to build your reference list and bibliography and when you will cite sources in your research paper.
4. Basic Structure Of A Research Paper
The general research paper format follows the traditional outline that is made up with this organizational structure. Generally, the parts of a research paper includes the Introduction, Method, Results and Discussion parts. Creating an outline for a research paper with these parts helps organize your paper better.
The introduction for the research paper includes a catchy topic sentence that highlights your chosen area of study. The aim is to convince the reader of your personal stance on the subject and the relevance of the research. The intro identifies a real-world problem, highlights the research gap and attempts to provide a solution for the problem.
The methods section highlights your undertaken research techniques, primary or secondary, to illustrate how the study was conducted. It further describes the research material that will be used for the research and the sources that will be used for the study. The section also tells the reader about the tools that are used for the investigation.
The results section highlights the significance of your findings and analysis. These findings further help strengthen your claim and justify your presented arguments.
The discussions part further elaborates your findings and widen the research focus. Each presented argument or point in this section will present the broader implications of the study.
Continue reading to know more about creating a research paper outline.
5. How to Write a Research Paper
The process of writing a research paper begins with creating a good title page. The title page provides general information about your paper. This is then followed by an abstract, other sections of the research and a bibliography or references list at the end.
5.1 Title Page
A research paper cover page includes relevant information about your research paper like the author's name, names if there are multiple authors, the name of the instructor, date of submission and the institute. The title page should tell the reader what the paper is all about so that they have a clear idea about your topic.
5.2. How to Write an Abstract for a Research Paper
The abstract includes summary sentences that highlight the central theme of your research paper. The length of an abstract is normally half a page. The section provides an overview of the research area or topic that is being discussed.
Everything is added briefly and without any detailed explanation of the subject. Ideally, an abstract should address the following important points:
Key features of the study
What steps you took for the study?
How did you conduct the research?
Core outcome and results of your study
It should follow the structure like topic, key features and outcome. The summarized section should provide a quick synopsis of the following:
the topic of the paper
your approach to the study or research
an overview of the most significant research findings and results
the primary implication or outcome of the research
Make sure you do not provide any background details of the research area or references for the citations that you added in the paper. Also, avoid explaining the purpose of undertaking the research or investigation in your abstract.
5.3 How to Write an Introduction to a Research Paper
Your introduction has to be catchy and exciting. It must be informative enough to inspire your reader in a positive way. The intro part includes details like your area of research, a brief background information on the topic and a preview of your study.
Do not get too formal with your research paper writing. If you need to stretch out to explain your point of view better, then go ahead and do so. Your academic paper does not necessarily have to be boring and dry.
Wherever required, use interesting, relevant and brief points to explain your central idea and supporting arguments. A good introduction always explains your main research approach, the key theme and your aim of conducting the research.
It clearly provides answers to three important questions with regards to your audience:
What is the area of research and the central theme?
Why am I reading this research paper?
What actions should I take? What do you want me to do?
The introduction is usually about half to three-quarters of a page.
It should follow the structure below:
Background context for the research topic
Aims and Objectives
Contextual background for the problem area or topic
Technical background details
Assumptions and constraints
Purpose of the research or investigation
5.4 How to Write A Thesis for a Research Paper
A thesis statement includes summary sentences for highlighting the main point of your research paper. It also offers an informative preview or synopsis of the supporting arguments. A thesis statement emphasizes your topic sentence and helps organize your ideas. It guides the reader through a well-presented flow of arguments so that they understand what your study is all about..
Generally, a thesis statement comes after the introduction. However, the structure may change if your instructor tells you not to write a thesis statement separately. In case your teacher did not mention anything, it is suggested that you always include a good thesis statement in your paper for strong impact. Since it highlights your central theme or idea, every supporting argument you present will naturally link to it throughout the paper.
Keep in mind that your thesis statement must clearly present your core theme or stance of the research topic. Every other argument will follow from this summarized viewpoint. Your thesis statement must then be highly impressive so it inspires the reader to read through your content.
5.5 Body Section (Methods, Results, and Discussion)
This section helps organize your research into a coherent flow. The body paragraphs are divided into the Method, Results and Discussion parts. The body of your research paper forms the essence of all of your research and analysis. All your arguments must be structured in a logical flow so the reader can follow your research from the beginning to the end.
Make sure you add relevant headings and subheadings in this section so the readers have a clear idea of your discussion. Proper headings also help promote readability, letting your reader know what kind of information you're presenting.
The body paragraphs should have the following features:
Researched facts, real-world information through intelligent arguments that are supported by strong evidence
Organized points and arguments presented under relevant headings for a structural flow
Central theme and all arguments effectively through with figures and tables
Short paragraphs, each highlighting a unique concept or idea
Proper formatting, citations and layout to present information with clarity
5.6 How to Conclude a Research Paper
The concluding section must restate your central theme and personal stance on the area of research. It should not restate your earlier arguments. It restates your thesis statement and state if the hypothesis was proved or not. Moreover, it also presents a sort of call to action and compels the readers to think about the subject.
Use convincing points to explain why further research is required or how a solution meets an identified research gap. Based on your proposed solution, the conclusion should inspire your reader to believe your stance.
It should follow the structure: (objectives, key features, result).
A good conclusion will provide the following details:
An account of whether your research purpose and aims have been achieved
Summarized view of the vital arguments of your research
An illumination of the major outcomes and results of your investigation or study
6. Headings
All the headings used in your body paper must be informative, telling the reader exactly what sort of information is included in each section. These should not be mere tags but based on relevant and strong ideas and sources. For more convenience, it is a good idea to plan your headings while creating the outline.
For example, here's the difference between an insightful and uninformative heading.
Survey Findings (uninformative)
Findings Of The Fiction vs Non-Fiction Books Survey (informative)
It's vital to keep all your headings consistent throughout the research paper. If you're using a specific format for your headings, then all subheadings and headings within your content must follow it.
For instance, If you're using 'Noun Phrases', then keep all your headings in this particular grammar form.
Here are some examples:
The Organizational Structure (correct)
Structures Of An Organization (incorrect)
Are the operations effective? (incorrect)
Operational Efficacy (correct)
How to manage change? (incorrect)
Change Management (correct)
6.1 Research Paper Examples
These research paper samples are guides that will help you in formatting your paper and knowing about how to write it successfully.
6.2 Research Paper Topics
To give you an idea of what makes an ideal and research worthy topics, we have added some research paper topics to help you get started.
How does homeschooling impact the psychological growth of a child?
Transcultural medical practices and how do they impact different cultures?
Impact of war on civilizations and future generations
Explain Green Chemistry and its Impact on Overall Environment
What is Smog? State and explain its negative impact on human health.
Plastic and its Cons: Explain the global disadvantages of plastic waste.
What are the main causes of global population and is it disrupting the balance of natural resources?
Are the standard tests helpful in measuring students' competency?
What are the causes of frequent forest fires in the US?
Explain the pros and cons of No Child Left Behind Act.
What are the ethical concerns related to latest scientific advancements?
7. Conclusion
We hope this guide was helpful for you in learning how to write a good research paper. It's not too difficult to craft a winning research paper, all you need is to add the right elements to impress your readers. You need to be familiar with the paper basics and writing fundamentals to create an excellent research paper.
Instead of spending hours on research or idea conceptualization, just use our guidelines above to write an impactful paper.
If you need help writing an A+ worthy paper, ask one of the writing experts at 5StarEssays. With our academic and professional writing assistance, you can buy cheap research papers written by expert writers.
Order your paper now.