Expository Essay - A Complete Guideline to Help You Write
Have you been given the assignment to write an expository essay?
Do you struggle with writing this type of essay?
You have come to the right place!
Read this guide, which offers you a step-by-step set of guidelines to help you write an outstanding expository essay.
Expository Essay Definition
'What is an expository essay?'
An expository essay is one of the most challenging writing assignments that need dedication and understanding.
The term expository comes from the word "expose." It means explaining and clarifying something in great detail. In this type of essay, a specific topic is researched and then explained. All claims in this kind of an essay must be backed with solid proof.
In this type of essay, a specific topic is researched and then explained. All claims in this kind of essay must be backed with solid proof.
'What is the purpose of an expository essay?'
The main purpose of an expository essay is to:
Expose a particular topic.
Investigate a topic to increase your understanding as well as the readers.
Present an objective description of the topic.
Moreover, an expository essay is an informational, conceptual essay that has a single point of view to support it. This type of essay usually involves illustration and explanation to make the main idea clear while also providing useful facts for readers with little knowledge on the topic.
Expository Essay Vs. Argumentative Essay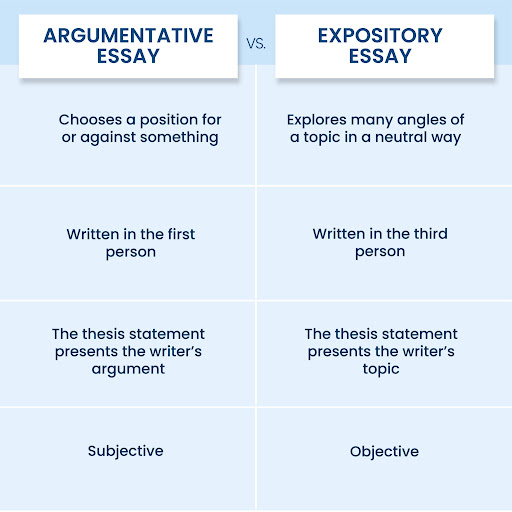 Types of Expository Essay
Expository essays are further categorized into five different types. Here are the five types of expository essay that are commonly used: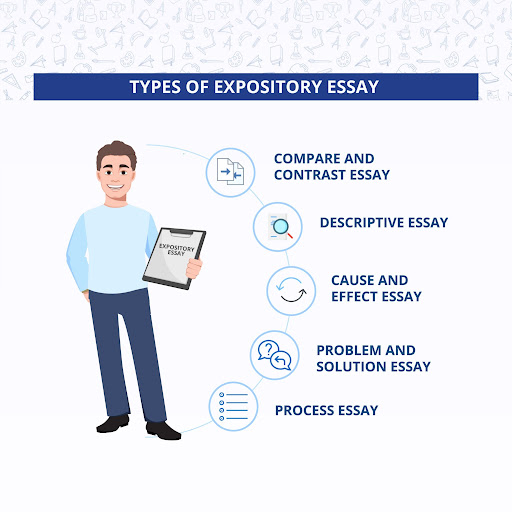 Let us discuss these types in detail.
1. Compare and Contrast Essay
A compare or contrast essay involves looking at two objects or ideas and analyzing them based on their similarities or differences. Keep in mind that the two objects or subjects under comparison must belong to the same category.
For instance, you can compare and contrast Batman and Superman but not Batman vs. Aristotle.

Paper Due? Why suffer? That's our job! Click here to learn more.
2. Descriptive Essay
In a descriptive essay, you must provide a detailed explanation of an object, event, or person. This type of essay provides the writer with room for creative freedom. You have a variety of topics to choose from and work from in descriptive essays. The writers are supposed to use sensory information to help the reader visualize the text using their five senses.
Cause and Effect Essay
Cause and effect essays require an analysis of an object or process. It requires digging a little deeper and figuring out why an event occurred and its effects.
The analysis is the most crucial aspect of writing a cause-and-effect essay and requires critical thinking skills and strong writing skills.
This type of essay examines the impact of other people or events on something in the world.
4. Problem and Solution Essay
In this type of expository essay, problems are identified, stated, and possible solutions are discussed. You must shed light on a problem and propose a valid solution for it.
5. Process Essay
A process essay is a step-by-step guide to completing some type of task. It tells readers how to do things and often provides instructions on how to accomplish a certain task in detail with clarity and precision.
How to Start an Expository essay?
Before you start, you may need to follow some steps that help you in writing a successful essay. Here are some steps to follow.
1. Choose a Topic

To start an expository essay, choose a brilliant topic to write on first.

For choosing the perfect topic, brainstorm different ideas that interest you and create an extensive list. Then, select the topic that interests and inspires you and start your research. Note that it is equally important to keep your reader's preference in mind as well.

2. Create a Thesis Statement

The most important component of an expository essay is to focus on the thesis statement. A thesis statement indicates the main point of the essay and what will be discussed further in it. Write the good thesis statement in one or two lines towards the end of the introduction, followed by the body.

3. Create the Outline

Create an expository essay outline by mentioning every main point that is going to be discussed in each paragraph. Keep your outline organized and structured.
How to Create an Expository Essay Outline?
Your outline should act as a blueprint to guide you through the process of building your essay. Without it, there's more risk that we stray off-topic or get confused due to all these new ideas coming in with no clear place for them.
Here is a sample expository essay outline.
Introduction
Hook Statement
Background Details
Thesis Statement
Main Body Section
1st Paragraph - Topic sentence, details, conclusion.
2nd Paragraph - Topic sentence, details, conclusion.
3rd Paragraph - Topic sentence, details, conclusion.
Conclusion
Summary of the thesis statement.
Discussion of important points.
Call to action.
A detailed guide about expository essay outline will help you learn more about it and write your essay easily and in less time.
How to Write an Expository Essay?
Here are some steps that you should follow and create a well-written expository essay.
1. Write the Introduction

When writing the introductory paragraph, remember that there are the following purposes:
Grab the reader's attention.
Define the essay topic
State the main idea/purpose of the essay.
A hook statement is used to attract the reader's attention and engage them. It is written using different ways such as quotations, anecdotes, statistics, rhetorical questions, personal stories, etc.
After the hook statement, present necessary information about the topic to clear any ambiguities. And lastly, end this section by stating your thesis.
2. Write the Body Paragraphs
The body is where you will discuss and define your topic. Present information about the topic logically, prioritize different points based on importance. Also, provide supporting facts and evidence and explain their significance.
3. Write the Conclusion
The last section of your essay is the concluding paragraph. Brush up on all the main points without repeating them. Highlight the significance of your topic and provide a solution if you addressed an issue.
Establish a strong connection between these parts to make a solid structure. Ensure you fulfill all the requirements necessary for the writing process of the expository essay and follow your instructor's guidelines.
Revise your Essay

Once you have completed writing your essay, revise it thoroughly. Also, keep the following points in your mind while you are checking your essay.

Is your essay written with an unbiased analysis?
Are the facts and examples relevant to the topic of the essay?
Is the information written and communicated to the readers?
Are there any unnecessary details included in the essay?
Is the entire content of the essay focused on the topic?
Are there strong transition words being used in the body paragraphs?
Is there a smooth flow between the body paragraphs?
Is the conclusion correlating with the supporting details mentioned in the essay?

If your essay is written according to these parameters, then you can easily move to the next step, proofreading.

Proofreading and Editing

Now you are almost done with your essay. Don't forget to proofread your essay before you submit it.

No matter how strong and detailed content you have added in your essay. If there are grammatical mistakes in it, the whole rhythm of your essay will be ruined.
Expository Essay Topics
Below is a list of unique expository writing prompts that can help you to grab top grades from your professor.
Discuss the strong point of view of your character.
What are your suggestions on time management?
Explain why aliens are real.
What are the drawbacks of having a curfew?
Explain the concept of love.
Explain the time that you have been really happy.
How is being fat different from being overweight?
Do teachers truly care for students?
Is there a connection between boredom and hunger?
Can reading in the dark lead to blindness?
Other than these, you can check numerous other expository essay topics to get an idea about the kind of topics that work best for such essays.
Expository Essay Examples
If you still feel that more guidance is needed, check out these examples of expository essays to get a clearer picture.
Also Read: 5+ Expository Essay Examples to Help you Get Started
Tips for Writing the Expository Essay
To write an excellent essay, you need to keep in mind the following tips:
Understand your topic, learn about it as much as you can
Go through similar expository essay samples.
Look for supporting evidence.
Develop an outline.
Come up with a writing style.
Create the rough draft.
Edit and update.
Start each body paragraph of the essay with a topic sentence.
Write the final version.
Some writers may continue to struggle in their writing endeavors even after reading and following our paper writing guidelines.
Worry not! Simply consult 5StarEssays.com .
A little help from our team of experienced academic writers can help you achieve top grades. In addition, our team of professional writing experts has years of experience in producing a variety of quality essays. Therefore, all you have to say is write my essay , and our writers are ready for your help.
Frequently Asked Questions
What are the basic parts of an expository essay?
An expository essay contains three main parts:
Introduction
Body paragraphs
Conclusion
How do you end an expository essay?
When you end the expository essay, you should summarize the main points. Then, restate the thesis statement and provide a call to action.
What are 4 types of expository writing?
Here are the four types of expository writing are:
Descriptive essay
Comparison essay
Cause and effect essay
Problem-solution essay
What are the features of an expository essay?
Here are the key features of an expository essay..
Clarity
Informative
Organization
Unbiased
Impersonal
What is it important to engage in expository writing?
The main aim and purpose of expository writing are to provide the readers with clear explanations about the essay topic. It includes the steps of the process and reasoning also. Therefore, it is important that the expository writing is clear and engaging for the readers.
What should you not do in an expository essay?
You must remain objective and unbiased throughout the essay, you should not address the readers directly and you must not allude to yourself also. In simple terms, avoid using first and second-person narration.