An Easy Press Release Distribution Guide for Your Help
A press release is one of the best ways to market a business. It contains all the essential information that is necessary for the journalist to produce his own story. The press release can be written, recorded, or even shown, but the form does not matter.
The main purpose of the press release is to get coverage and get noticed by the target audience. It is used to announce something newsworthy and deliver information to news outlets about a particular subject. Also, it increases brand awareness helping your public relations.
Hence, you need to distribute your press release that media outlets can easily pick up. However, the press release distribution can be done in several ways.
Therefore, continue reading this blog and get to know the press release distribution.
What is Press Release Distribution?
Press release distribution is the process of sending a press release to a large target audience of journalists, members of the press, bloggers, editors, social networks, and digital media outlets. With the help of a press release, you will send your release to different locations or post it on a single website.
The main purpose of the press release distribution is to:
Promote your business and reach new audiences.
Get coverage in media publications.
Present your brand in front of a huge audience.
Also, keep in mind that one press release is not enough to help you achieve your goal. You have to cover hundreds of companies and send quality press releases regularly. However, it is the best way to get noticed, and with time the companies grant you valuable coverage.
Methods of Distributing a Press Release
The press release distribution is a great way to get media coverage. There are two main ways to distribute the press release: send it manually or post it using the best press release distribution service.
However, if you distribute a press release manually, you will have to go through the entire process, and it will include:
Create a media list.
Find relevant media contacts.
Follow up.
Build relationships with media-related people.
Many businesses go for the professional press release distribution service. It is the easiest and fastest way to send the press release.
Both methods have their purpose but choose the one according to your business and best suited for your needs. However, if you have time, it will be great to use both strategies for your business.
Benefits of Press Release Distribution
Gaining press coverage is essential for your brand awareness, and it helps you meet the business goals. Press releases also help the companies get valuable publicity for spreading their message.
Press release distribution has the following benefits: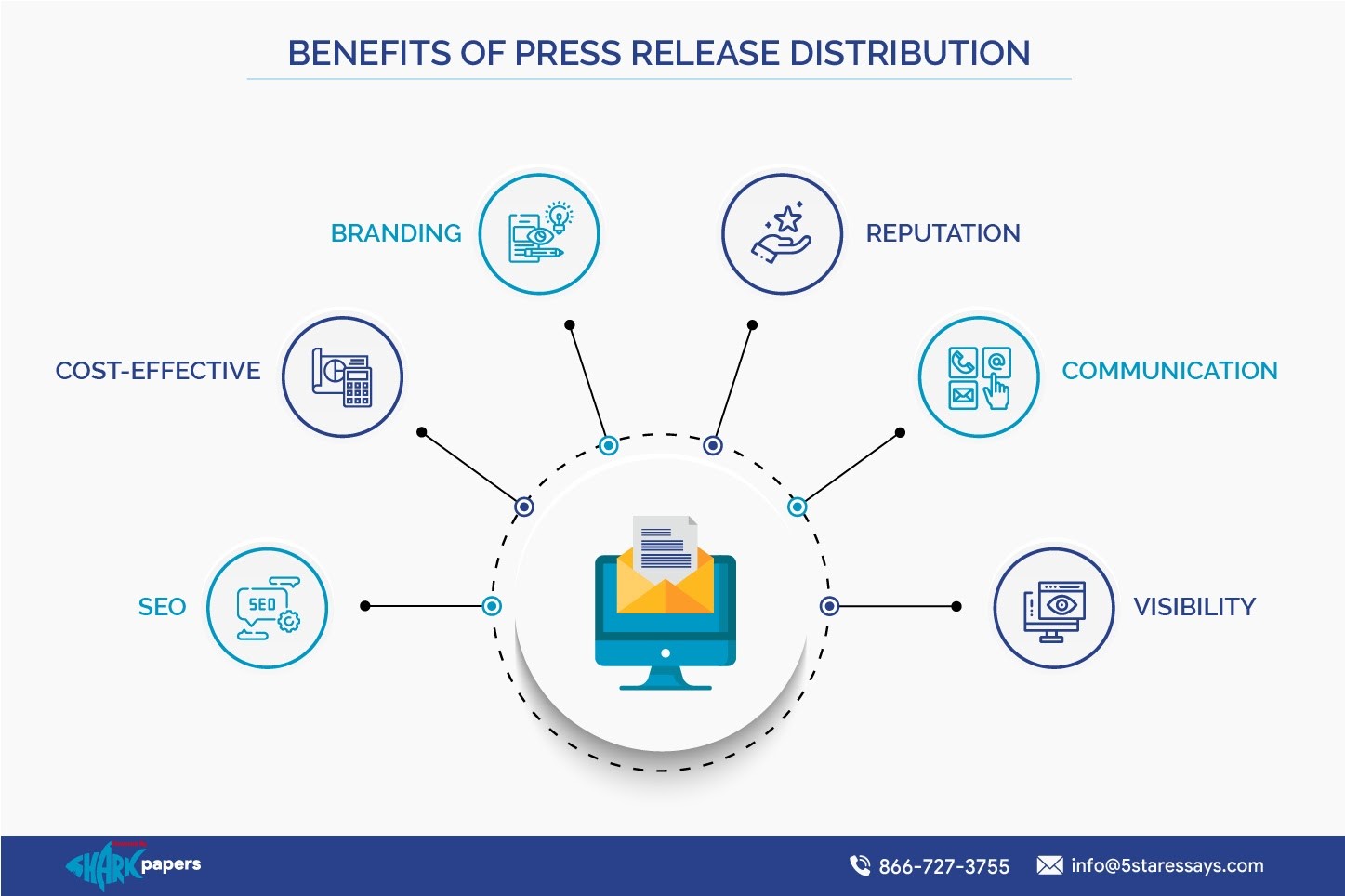 Let's discuss these benefits in detail.
Boost SEO

Press releases can help to increase search engine visibility. When you create content for your business, keep the major search engine optimization criteria in mind. In addition, include the targeted keywords because it has an important effect on your recognition in search engines. Therefore, an SEO-compliant press release increases your website traffic.

Cost-Effective

Press release costs are more affordable than other advertising activities. However, you should consider some points to maintain the costs at an affordable level:

Some PR agencies charge monthly retainers for a press release that is not profitable.
Online PR services offer more benefits as compared to PR agencies.

Therefore, keep these points in mind and save your money. If you handle the press release on your own, it can complicate things and cost you. It is better to contact the online PR agencies for writing, distributing, and reporting press releases.

Branding

Branding creates a positive perception and helps to achieve your milestone. The press release featured in magazines, blogs, articles, and newspapers positively impacts your reputation.

Visibility

The press releases have a significant impact on the visibility of the brand in the media. Through this approach, you can improve the recognition of your brand. It also allows you to generate more leads.

Reputation

When reputable publications cover your press release, it builds trust among the target audience. Also, it improves the reputation image of your brand. It also helps to be recognized in the industry and business circles.

Communication

A press release is an effective way to help you to reach the target audience. In addition, communicating with the target audience would have a better impact on your brand image.
How to Distribute a Press Release?
Now, you have to understand how important press release distribution is. But you also have to know how to distribute a press release.
Below are steps that you should follow to distribute your press release.
1. Find Journalists for Press Release

You must find people interested in your story when you have something newsworthy and would like to share it with everyone. You can also search for journalists who have already written on your topic. From their written work, you can also gather relevant data for your press release.

2. Get Journalist Contact Details

You have to collect the journalist's contact information for the press release distribution list in this step. It is not a very complicated task, but you have to put in a little more effort.

The journalist's contact details are available on their publication site in the author's bio. But it's not always that easy; you will have to do in-depth research on Google, Yahoo, etc., and use any media database for journalist's contact details.

Social media websites like LinkedIn and Twitter are the perfect way to find the journalist's contact information.

3. Craft an Eye-Catching Pitch

Through email, you will easily send the press release to the journalist. To capture the attention of the journalist, you have to create a perfect pitch. Also, keep these elements in mind when creating the pitch:

Keep it short or brief.
Try to make it attention-grabbing.
Don't include unnecessary and irrelevant information.
Make sure it is unique and specific.

4. Send Press Release Pitch

After getting the contact details and creating the pitch, you still have to wait for the best time for the press release distribution.

Therefore, it is better that you send your press release in the morning. Furthermore, it is a perfect time because several journalists prefer to receive emails in the early morning.

5. Follow Up for Press Release

Some people believe in follow-up, so some think that it is not a good approach. If you think that your press release is newsworthy, then you don't need any follow-up. However, don't fill the journalist's inbox with the same release. This way, you make them annoying and lose the chances of getting media attention.
Tips for Press Release Distribution
Here are some tips that you should follow to distribute the press release easily.
Send your press release to influencers, journalists, and bloggers at the right time.
The press release should be concise, so the journalist can easily read it.
Always include images or videos in your press release.
Use digital tools like LinkedIn, Hunter, Twitter, etc., for collecting the journalist information.
Make your pitch attention-grabbing to the journalists.
After sending a release, follow up with journalists.
Follow the journalists who have covered your story on social media.
Don't forget to include your contact information on the press release so that the reporter can find you easily.
Press Release Distribution Services
With the help of the press release distribution service, distributing a release is not a daunting task. Small and large businesses use free press release distribution services to promote their business.
To make the selection process easier, we have compiled a list of some great press release distribution services.
PR Fire

PR Fire sends your press release to journalists and media personnel within four hours. They also promote your release on different social media forums. Also, in a few weeks, you will get a report on how successful your campaign is.

PR Web

PR Web allows uploading the press release with images and videos. Also, they send the release to selected journalists. As a result, it improves the search engine result ranking and social media performance.

RealWire

RealWire is ideal for small businesses, and it gives instant access for sending and receiving press releases. It completes the press release distribution process in a few steps:

Release
Distribute
SEO
Social
Evaluation

PR Newswire

Pr newswire is another press release distribution service, and it is also best for small businesses. This distribution service improves the SEO of the press release and makes it visible online. Also, they send press releases to newspapers, news organizations, and news sites.

Moreover, they also have a Pr newswire journalist site, in which the bloggers, journalists, and content creators connect with experts.

EReleases

eReleases is good for small businesses, and it offers the best services. This company reaches your press release to radio, television, bloggers, and other major news outlets. The press release distribution plans range from $299 to $599 per distribution for a minimum of 400 words.

Linking News

Linking news helps you publish your press releases on major news outlets in which you have earned media coverage. They publish your press release on Google News, NBC, FOX network, Bloomberg, and other platforms.

PR Distribution

PR distribution is an entry-level press release distribution service. They target national, international, and local audiences. Here, the distribution plan ranges from $99 to $1,999 per distribution.

24-7 Press Release NewsWire

24-7 press release sends the press release to online media, print media, journalists and bloggers. It is best for those businesses that promote their business through social media.
This complete guide will help you in distributing your press release effectively. However, if you need professional writing help for a press release, consult 5StarEssays.com.
You have to request 'write my essay,' and our professional writers help you process it. In addition, they have a successful proven track record of writing impressive press releases.
So, place your order now and get a well-written press release.
Frequently Asked Questions
How do I distribute a press release for free?
Press releases are an essential form of communication for any business. They create exposure and draw attention to your products or services. Below there are some rounded up free distribution services you might want to consider:
IssueWire
PR.com
Newswire Today
PRLog
Online PR Media
Press Release Point
Market Press Release
What are the types of press releases?
Here are some common use cases you can turn to when your team needs a boost in morale.
New Hire Press Release
Charitable Initiative Press Release
Rebranding Press Release
Award Press Release
Event Press Release
Feature/Product Press Release
Partnership Press Release
Are press releases worth it?
A newsworthy press release is a great way to get your business in front of the media and communicate with potential customers. It's an affordable opportunity that can help boost exposure or even create new opportunities for success.