Learn How to Create a Strong Argumentative Essay Outline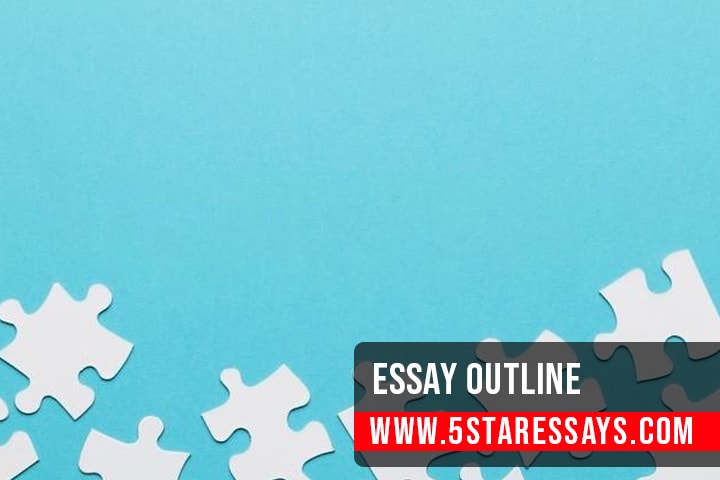 The outline for an argumentative essay is similar to any other type of essay. To write an impactful argumentative essay, you need a topic broad enough to create a strong argument.
Here is how you can develop a 5 paragraph argumentative essay outline.
1. How to Write an Argumentative Essay Outline
This is a basic outline that can be used in any type of essay, including an argumentative essay. Now let's discuss these points in detail. Continue reading to know more about an argumentative essay outline template.
1.1 Introduction
The introduction of your essay is the first thing your reader will see. This is where you provide the reader with the proper background information, educating them about your topic. The reader will decide from the very first sentence of your essay if he wants to continue reading your essay further or not.
The opening line of an essay is a hook that sticks the reader to the essay. If the introduction is not interesting, the reader might not continue with the essay.
This is the last thing you want, right?
Here are three tips you can use while writing the introduction of your argumentative essay making sure to grab the reader's attention and motivate them to continue reading.
1.1.1 Start with a Hook
Start your introduction with an interesting hook that engages your readers wanting him to stick to your essay. It is not necessary that you have to write an entire paragraph as the hook of your essay.
A single interesting sentence also counts as a hook. You can start your essay with an interesting fact, anecdote, funny story, statistics or a controversial statement. Whatever you choose to write, make sure it is catchy to grab the attention of readers.
The type of hook you choose depends on the nature of the paper that you're writing as well as your audience. Whatever you choose to write, make sure it is catchy to grab the attention of readers.
Check out this article to learn some interesting hook examples and its different types.
1.1.2 Explain your Point of View
Now you have to develop your thoughts related to the topic and explain your choice of topic to the readers and its significance. Explain this part of your essay according to your personal knowledge in a couple of lines in the introductory paragraph.
You can also present the background information on your topic. Making sure that the reader knows what will be discussed throughout the paper. However, you must be careful when sharing information at this stage, as you don't want to bombard the reader with too much data.
1.1.3 Write down your Thesis Statement
A thesis statement is the crux of your entire essay that is usually written at the end of the introductory paragraph. Write down a strong and clear thesis statement that can be backed by supportive argument and evidence.
Thesis statement of your essay should explain the main point and purpose of writing your essay.
Your entire essay revolves around the thesis, the body paragraphs present information and evidence to defend your thesis.
To learn about it in more detail, head on to our article on writing a thesis statement.
Follow the tips mentioned above to write the introduction of your argumentative essay and you will end up writing an interesting introduction for your argumentative essay.
It is no surprise that the introduction of any essay holds the most importance. If you start off on the wrong foot, the entire essay, along with your hard work goes in vain.
1.1.4 Key Points
Here are the summarized key points for writing your argumentative essay introduction.
Do not start any argument in the introduction. This is what the body paragraphs are for.
Set up your stance in the argumentative essay introduction.
Do not provide any supporting details or evidence in your argumentative essay introduction.
The introduction should not be long. Keep it short and precise.
Do not discuss any possible results in your introduction.
You will discuss and prove your thesis statement in the body paragraphs but don't rush to achieve this goal in the introduction.
1.1.5 Argumentative Essay Introduction Examples
To know more about writing a catchy introduction, review the following argumentative essay introduction examples.
1. After the terrorist attack on World Trade Towers on September 11, 2001, racial profiling was increased. According to the authorities, profiling is the only way to identify terrorists. Some airports started targeting people from a Middle-Eastern background, creating concern about the violation of civil rights. This tactic of screening didn't seem to work, which made the authorities recommend the use of the National ID card. If every citizen carries his ID card along, it will make the screening process easier by not targeting individuals on the basis of their looks.
2. Nowadays, teenagers and students wake up, check their phones, get out of bed, get ready and leave instantly for school or college without any breakfast. Some might believe that having breakfast is not essential or they lack time to start their day with a healthy meal. Studies have shown that breakfast is the most essential meal of your day, especially for students.
3. Most of the public workers around the globe are not given the right to freedom of expression. Not even when they are made to work day and night, violating their working rights. Lack of freedom of expression decreases their morale to perform well at work. Enforcing their right to strike and to speak against such violations will encourage them. Countries all over the world should encourage their workers to go on strike and speak for themselves.
1.2 Body Paragraphs
The body paragraphs of an argumentative essay holds three significant components: claims, evidence, counter argument.
Each body paragraph should contain a topic sentence that should then be explained in the paragraph with supporting details.
To present a strong argument, you can separate paragraphs to support or negate the thesis statement.
Present your arguments with supporting evidence to support your claim in one paragraph. Remember that you can't just state your opinions about a particular issue or subject. To make a strong argument and change people's point of view you must convince them using strong, authentic facts.
Present the opposing argument in the other paragraph by researching both the point of views. Presenting both stances will strengthen the argument created in the essay. Refuting the counter argument will make yours seem more valid.
Another approach can be that first, you can use all the evidence to support your argument. After presenting your side of the argument, you can write a paragraph in the end to refute the opposing view.
There is not a rule that should be applied when it comes to presenting an argument. The choice is yours. Make a decision and go for the method that would be easier for you while presenting your case to the readers.
Just be mindful when collecting the evidence. Only look for credible sources. Let's look at this example of a claim and its supporting evidence.
Claim: Closing down fast food chains can control the amount of obese kids in the United States.
Evidence: "According to the analysis of several studies in 2017, it is shown that the percentage of obese kids has increased 11 times from the year 1975."
1.3 Argumentative Essay Conclusion Outline
The last component of a simple argumentative essay outline in the concluding paragraph. Your conclusion needs to be strong to provide closure to the entire argument presented in your essay.
The point of writing a conclusion is to make the readers realize why you went for this topic in the first place and how significant it is. Restate your thesis statement and your stance on the topic in conclusion.
A strong conclusion leaves a strong impact on readers. This is the part that your reader will remember once he finishes reading the essay. End your essay an impactful conclusion so that the audience understands and agrees to your point of view.
Now you know everything there is about an argumentative essay outline. To make it easier for you, we have an argumentative essay outline sample to guide you through your essay.
1.3.1 Argumentative Essay Conclusion Examples
Here are some argumentative essay conclusion examples to further clarify how to write the conclusion.
Physical punishment might be an effective way to discipline kids. However, parents should avoid using this method to a maximum extent. We live in a world where there is already enough violence around us. We don't need any more of it and that should start from home. Teach your children to be responsible, without using violence.
Hence, we cannot say that adults are better learners than children. This quality may vary depending on the enthusiasm and motivational level. The learning capability of an individual cannot be generalized according to their age.
Sports play an important role in maintaining health. We will have a healthier society if people involve themselves in sports. However, we need to make sure that the sports we are playing are not threatening to our lives. They should be challenging yet exciting.
Teenage girls have started idealizing models and celebrities, which is the primary cause of Anorexia Nervosa. It has become necessary to limit the usage of social media among teenagers to prevent the expansion of such eating disorders.
Social media has connected people globally through time. This globalization process has evolved communication and technology, all over the world. However, it is time that we control the usage of social media among our young generation to limit the negative influence caused by it.
2. Argumentative Essay Outline Worksheet
To make writing an outline of argumentative essay easier we have attached a worksheet below. Complete it carefully and you will master the art of argumentative writing.
2.1 Argumentative Essay Outline Example
Here are some argumentative essay outline pdf you can follow to craft a perfect argumentative essay.
If you follow this guideline and the sample outline provided above the writing process will become simpler. Regardless of the essay topics you will end up with a high quality piece of writing.
While following an outline is important when it comes to writing argumentative essays, but other essential steps must also be followed. To learn more about them, go check out our step by step guide on writing an argumentative essay.
If you still need help writing your essay, you can always contact a professional essay writer who will help you write an A worthy essay.
Sit back and relax while he does the work for you.