Scholarship Essay Format - Guidelines, Tips, and Samples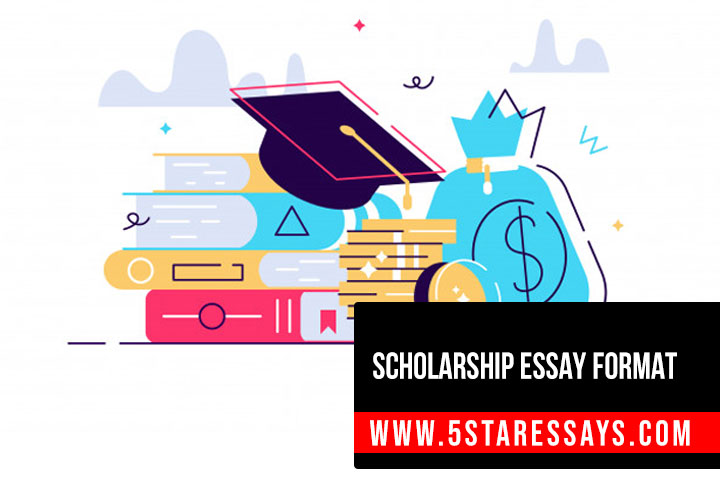 Working on your scholarship essay for the first time? A scholarship essay is an essential part of a scholarship application. It is somewhat like an application essay but has a different purpose and format.
The essay samples added to the blog will help you understand better and format your essay easily. Scholarship essay writing is different from application essay writing for high school and college, making them difficult.
This is what confuses the students. Many of them waste time procrastinating and thinking about how they should format and write their scholarship essay.
Here, we have added detailed tips about how to create a college scholarship essay format.
What is a Scholarship Essay Format?
A scholarship essay format is a set of guidelines that the students follow when writing their scholarship essays.
Formatting is important for any kind of essay, and this also includes the scholarship essay. Proper formatting is important, and without it, no matter how good your essay is, it will not leave a mark on the scholarship committee.
A properly formatted essay will help you cut the competition and introduce you to the scholarship committee in a better way.
Importance of a Scholarship Essay Format
Do you know that your scholarship essay is your only chance to win the scholarship? A scholarship essay goes with a scholarship, and this is why it should be inspiring and winning.
This essay format is your chance of showing the committee why you deserve to win the scholarship. It is used to inform and persuade the officers about your capabilities and academic achievements.
However, when preparing your essay, remember that the scholarship committee receives hundreds and thousands of applications each year, and cutting through the competition is very, VERY, difficult.
This is another reason why writing and submitting a read-worthy essay and properly formatted essay is important. The best way of doing it is to read and follow the format guidelines properly.
Make sure that you double-check your essay before submitting it. It is also important to set a standard that will help the students to save time.
How to Write a Scholarship Essay Format?
Proper formatting is an important part of an essay, and this also includes scholarship essays. Formatting gives your essay a proper structure as no one likes an ill-formatted essay, let alone granting the scholarship.
'What is a proper scholarship essay format?' Below, we have provided the guidelines to format a scholarship essay.
Title of the Essay
Unless it is specified, you do not need to include a title. Scholarship essays have a limited word count, and this is why it is better to save the words to add to your essay. If you think that the title will add a unique personality to your essay, then adding it will be a good idea. Otherwise, proceed with the content of your essay directly.
Style and Size of the Font
Preferably, the font size should be 12 pt. and Times New Roman or Arial as the font style. Choose a font that is easy to read and nothing fancy or overboard since a scholarship essay is not the right place to flaunt your creativity.
Spacing of the Essay
Like most college and high school essays, it is better to double space your scholarship essay. Moreover, double-spacing makes it easier to read and scan. Proper paragraphs make it more readable and free from any large blocks of text.
Page Numbers
It is completely optional unless it is mentioned in the guidelines. For high school and college essays and papers, it is important to put page numbers. But you can also do without it if it is not mentioned in the guidelines.
Citations and References
A scholarship essay is all about 'YOU' and your personal experiences. Thus, it is not necessary to add references and citations. However, if you add any quotes or relevant information from an outside source, you should cite it properly.
For the citation styles, you can choose from any of the available ones but stay consistent with whatever style you choose.
Below is a quick review of the grad school scholarship essay format;
12 pt. font size
Times New Roman font style
Double spacing
Page numbers, if mentioned
1-inch top, sides, and bottom margins
The format is the standard essay format that all scholarship essays follow. Have a look at the following template to get a detailed idea of formatting an essay.
Scholarship Essay Template
Tips for Formatting a Scholarship Essay
Formatting an essay is as important as writing a winning essay. Without a proper and easy-to-read format, your essay will not get the desired results. When formatting, make sure that you read the essay prompt and instructions properly and follow them without fail.
Below, we have added tips for submitting your scholarship essay in different formats.
Tips to Format your Essay on the Computer
Before you begin with the writing, make sure that you check the instructions properly. If it has mentioned the font style, font size, spacing, and margins then set your page accordingly before writing your essay.
In case no font style is mentioned, choose a professional font style like Times New Roman, Arial, Calibri, and Verdana. Avoid using any fancy font styles.
If the font size is not mentioned, use easy-to-read font size, preferably between 10 and 12 pt. For the headings, do not go over 14 pts. Fonts that are too big or small will disrupt your essay's overall look.
Do not go overboard with italics, bold, and underlines. If you want to highlight something, a word or phrase, italicizing it will be better than making it bold and underlined.
Check your essay thoroughly before the final submission. Ensure that it is free from all kinds of typos, structural and grammatical errors, and spelling mistakes. A flawless essay will better your chances of winning the scholarship.
Tips to Format the Essay for Mail Submission
Use high-quality paper to print your essay and avoid using low-quality paper for your essay.
If your printer has less ink, replace the inkjet before printing your final copy of the essay.
Make your paper clean and free from creases and ink smudges. Essays related to scholarships require a clean and presentable look.
Avoid folding your essay and the application form. Use a large envelope that is big enough to hold your essay, application form, and the required documents without the need for folding them.
Tips to Format Essay to be Submitted Online
Save your essay in the desired format; Word or PDF. If nothing is mentioned then submit your essay in the PDF file.
Name your file and keep a clear name. Preferably, add the name of the scholarship, your name, and the present year. Do not add 'draft' in the name of your file.
When pasting the essay into the online form, make sure that you check the final look of your essay. Generally, online forms do not support and recognize spacing, indents, and emphasized text. Therefore, make sure that you check the final look before hitting the 'Submit' button.
These tips will help you format your essay properly and without wasting any time. Remember, no matter how good your essay is, it will not be able to earn the desired scholarship without proper structuring.
To help you further, below are some excellent scholarship essay examples.
Scholarship Essay Samples
These samples will help you format your essay and make it according to what the scholarship committee likes and wants to read in your essay.
Still, need help? We know that working on your scholarship essay could be overwhelming and scary. 5StarEssays.comis a professional 'write my essay' service that offers high-quality and affordable academic papers to high school, college, and university students.
To place your order for discussing your scholarship essay, contact our representatives.
Frequently Asked Questions
Can I reuse scholarship essays?
Yes, but make sure that you tweak the essay according to the guidelines a=of the chosen essay.