Descriptive Essay Topics - 100+ Topics Recommended by Experts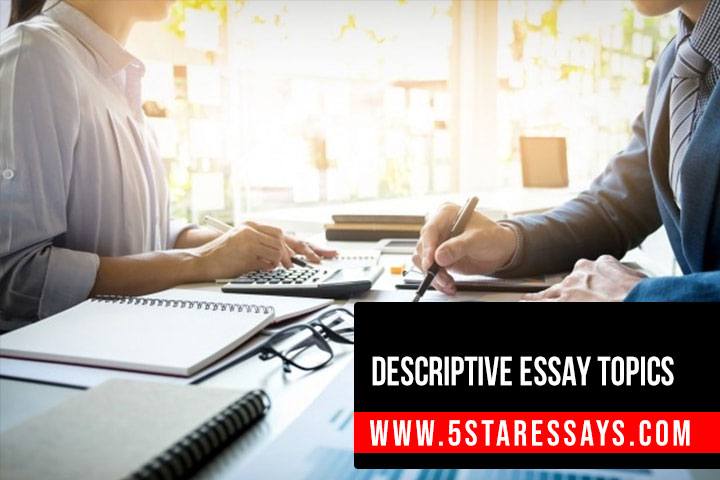 Memories, imaginative situations, feelings and impressions, writing a descriptive essay is an absolute fun for many college or university students. They get a chance to play with their creativity and this is what makes this type of essay so much fun.
Descriptive essays do not require a lot of research or reading as they are based on the writer's personal description and explanation of the selected, or given, topic. This essay type is ideal for high school students because they are not very much into research.
However, one of the most common problems that students face while writing an essay is choosing and picking the essay topic, descriptive essay is no different. The process could be difficult, confusing and time consuming.
The essay format is the same; introduction, body paragraphs and conclusion, the topics for descriptive essays are different and require a high level of descriptive capability.
Here is a list of some good descriptive essay topics ideas. These are just examples and you can customize them according to your requirements. .
1. Descriptive Essay Topics For College Students
One week of a newly wedded couple.
A crazy jump with bungee.
Importance of college education.
The day when everything went wrong.
Education before anything.
How can one make the world a better place?
The magnificence of this universe.
The demand of love In everyone's life.
Future of cloning on planet Earth.
Describe your day as a new college student.
First time I had tears of joy.
First time I fell in love.
The beauty of the mountains.
How does karma work?
The infinity of the sky.
Earth from the eye of an astronaut.
Superstition and its reality.
Why I love flowers?
A day with a baby elephant.
Implementation of Socratic method on people with cognitive disabilities.
2. Descriptive Essay Topics For High School Students
Your worst nightmare
Describe your Favorite place to read
Describe the painting
Describe your best friend
Describe your favorite pet
Describe your most embarrassing moment
Describing addiction
Describe one of your teachers
Describe a souvenir
Describe when you first acted in a play
Describe visiting an old friend
Describe your life changing moment
Describe when you moved to a new city
Describe the future
What is your favorite pet
A place you want to visit
How to bake a cake
Describe one of your saddest days
3 essential clothing items everyone should have
3. Descriptive Essay Topics For Middle School
Looking into the future.
Happy day in a family circle.
Creating a tour of my town.
The most extraordinary person you met.
Your favorite season.
An unusual animal in the zoo.
Your favorite meal.
A trip to the mountains.
Pros and cons of co-ed sports
Should school sell fast food?
Should school uniforms be mandatory?
How to Discipline School Bullies?
Benefits of giving less homework.
When Can You Leave Your child Home Alone?
Benefits to Starting a School Newspaper
Important reasons why kids should have chores
The Benefits of Summer School
4. Descriptive Essay Topics For Different Grades
Writing a descriptive essay is an important task to accomplish. Here are some of the great descriptive essay topics for different grades.
4.1 Descriptive Essay Topics For grade 5
Favorite cartoon character
My Favorite Song
A special photograph
A special place
An important time in history
Building a fort
Creepy things
Do I want to be famous?
Doing homework
Gone fishing!
How to stop hiccups
Let's help the animals
Looking at the globe
My favorite clothes
Staying at a friend's house
What I use a computer for
4.2 Descriptive Essay Topics For Grade 6
Favorite hobby
What is your favorite movie-why, describe it
Do you like gaming and which game is your favorite
Do you enjoy playing a sport
Do you have an unusual talent
What is your favorite subject and why
4.3 Descriptive Essay Topics For Grade 7
Where do you like to vacation and why
What is the greatest lesson you have learned
Who is your hero and why
If you could have a super power, what would it be
Who is your favorite band
Where do you want to go to college
4.4 Descriptive Essay Topics For Grade 8
A game close to my heart
Mobile Phone: boon or a curse?
What is your most treasured item?
Your favorite restaurant
Your dream house
5 qualities of a good roommate
A note on your closet
Your favorite childhood memory
The ride on a subway train
The street from home to school
Your most treasured flower vase
The best food you have ever eaten
Your favorite teacher and his/her best habit
The best photograph you have clicked
4.5 Descriptive Essay Topics For Grade 9
A day at school after the winter vacations
The link between music and productivity
Why we should learn to love insects
Sources and causes of water pollution
What is the rule of law?
How many solar systems are there?
The importance of self-esteem and confidence for children
Nature vs. Nurture
Effects of domestic violence on children
5. Good Descriptive Essay Topics
Descriptive essays are only difficult when you have to decide what to write about. Here are some of the good and easy descriptive essay topics that you can explore to create one of your own.
My first day at the job and how I feel about it.
Most suffocating day at the workplace and how I survived it.
How to avoid negativity in the workplace?
How to be more positive with troublesome employees?
Best way to resolve a conflict and to avoid in the future.
Miracles of staying focused at workplace.
Importance of maintaining a healthy routine even if you have a tough job.
Most embarrassing moment of my office.
How to deal with deadline pressure?
Top 10 tips to invoke creativity and move ahead in your work.
6. Descriptive Essay Topics About Science
Why human cross with another species is illegal?
Particles inside an atom.
The discovery of the atom.
The greatest scientist of all-time.
The theory of everything.
Importance of salt in the ocean.
Is there any way seawater can be refined at a cheaper rate?
Difference between acidic and basic radicals.
Difference between covalent and ionic compounds.
Acid rain and its impacts.
The first time when man landed on the moon.
The nearest star to planet Earth.
What is happening with the rings of Saturn?
What reactions make Sun burn?
How do astronauts live in space?
How does GPS work?
When is the moon day?
The greatest astronaut in history.
Man's achievements in space.
The discovery of space.
7. Descriptive Essay Topics About Entertainment
Describe your favorite scene from the most recent movie that you have watched.
Describe the physical setting of your favorite soft drink's TVC.
Describe the emotions depicted in the famous Mona Lisa painting.
Describe the plot of your favorite movie.
Describe your favorite fictional character and discuss why you like it.
Choose one abstract painting and describe the emotions depicted in it.
How your religious book impacted your inner thoughts?
A writer who you can relate with the most.
What is your favorite type of dance; describe your emotions while dancing.
Describe your favorite tv series and why you like watching it.
8. Descriptive Essay Topics About Emotions
Describe an important event that impacted your personality.
Describe the psychological events that influenced your personality for the worse.
Describe the psychological events that influenced your personality for the better.
Describe your first or last day at your college.
Why you enjoy a bike ride?
Why do you think writing will impact your personality at a deeper level?
What do you feel when you held a baby for the first time?
Describe the loss of a family member in 800 words.
Describe how you would look without hair on your scalp in 900 words.
Why are stars compared with human personality in poems?
9. Descriptive Essay Topics About Favorite Activities and Things
All-time favorite movie character.
Movie of the century.
House that I have always wanted.
Most heart touching poem.
Meeting my best friend after a long time.
My favorite book.
The most amazing thing that I remember.
First time I fell in love.
My first date.
The first time I went shopping on my own.
The best dish I ever cooked.
The weirdest food I have ever tried.
How to stay connected with your parents?
How to detect fake friends?
How to be socially more active?
Importance of cooking in my life.
People who are important in my life.
Is love necessary for everyday life?
Importance of a best friend in life.
The hardest goodbye of my life.
10. Descriptive Essay Topics About Memories
Describe the oldest memory that you can recall and why it has stuck with you.
Describe a time you were the most happy, who were you with?
Describe when something completely unexpected caught you off-guard.
Describe a memory that you hold close with someone who has passed away.
Describe your most embarrassing day or moment.
Describe a cold winter evening.
Describe the time you went to the beach on a bright sunny day.
Describe your first day at preschool; what do you remember about it?
Describe the first concert you attended.
Describe the time that you felt the most scared.
11. Descriptive Essay Topics About Objects
Select five objects from the kitchen and describe their appearance.
Describe your prized possession.
Describe a room in your house and its most valued objects.
Describe your favorite outfit that you can never get rid of.
How will you describe a smartphone to someone from the ancient times?
What role does the computer play in your life?
Objects you come across on the way to your school.
Describe your favorite toy as a kid.
Describe your safety blanket.
What objects would you bury in a time capsule?
These are the best examples of descriptive essay topics. Make sure you choose a topic of your interest as it gets fun when you write something that you are passionate about.
Once you have decided on the essay topic, the next step is to write a descriptive essay. With us, you can learn how to write a descriptive essay with helpful tips and samples.
Get Professional Help!
Confused about how to pick a topic for a descriptive essay and write about it?
Worry not! We offer high quality writing service for high school, college and university students at affordable prices.
The highly qualified essay experts at 5StarEssays are ready round the clock to help you spend time on things that you love. We submit all the work after diligent plagiarism and grammar checking so that you don't have to check it again.