Qualitative vs. Quantitative Research - What's the Difference
Qualitative and quantitative research are the two main types of research. The first thing to notice while writing a research paper is whether it is qualitative or quantitative. Both types are implied to research and gather relevant information.
Some students think that the two types can be used conversely. However, there are major differences between the two methods. You can combine both these types of research in your surveys to get accurate results.
Read this blog to learn the differences and advantages of qualitative vs. quantitative research design.
Quantitative vs. Quantitative Research Definition
The definition of both the research methods is given below.
Quantitative Research Definition
Quantitative research design is focused on monitoring and analyzing statistical values and different types of data. It is focused more on quantity, and the gathered data is presented in the form of numbers, statistical analysis, and facts.
Here, the researchers deploy mathematical frameworks to the collected data quantity under question. It is the systematic investigation of a particular phenomenon by collecting quantitative data and performing mathematical techniques. On the other hand, the results are mainly derived from the research surveys and questionnaires.
Lastly, quantitative research includes large sample sizes that are expected to represent the population of research interest.
Qualitative Research Definition
Qualitative research is more towards presenting the researched data in detail by introducing reviews, interviews, and opinions into the research report. It is focused on non-numerical data and examines it in its natural form.
The primary purpose is to provide a detailed insight into the research problem and develop a hypothesis. But the respondents can add their expressions and views into the responses. Lastly, the research sample is small that is chosen through a preset criterion.
Types of Quantitative vs. Quantitative Research Methods
Both qualitative and quantitative research have different methods to collect data. However, always choose the one that best answers your research question. Have a look at the following methods to get a detailed idea.
Here are the common types of quantitative and qualitative research methods: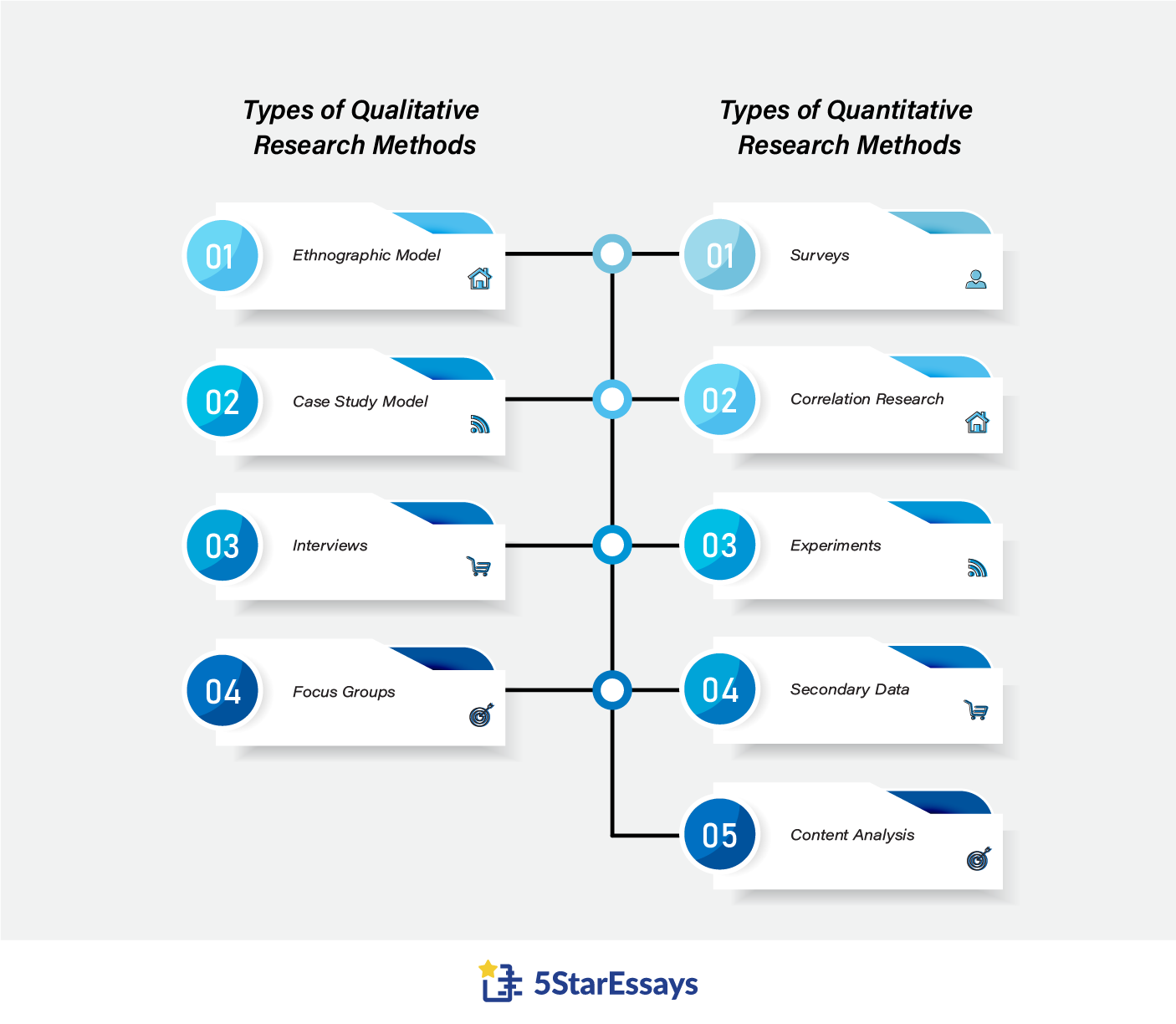 Types of Quantitative Research Methods
Here are the common types of quantitative research methods:
Surveys

The survey focuses on utilizing interviews, questionnaires, and polls of research questions to get accurate results related to behaviors. It includes a list of open and close-ended questions to understand how the subjects work and behave under specific circumstances.

Correlation Research

Correlation research tests and analyzes the relationship between two variables and how they affect each other. This method is conducted to understand the occurrences and causes of it having a relationship with other available factors and elements.

Experiments

It is the basis of research and is generally carried out with the help of hypotheses. It could either be a single or multiple choice statement.

Secondary Data

This research method is used to collect and analyze non-primary data. These may include any company accounts and other related numerical data.

Content Analysis

Content analysis helps to record words and themes in a set of texts to analyze different communication patterns.
Types of Qualitative Research Methods
Following are the types of qualitative data collection methods:
Ethnographic Model

The goal of this research type is to discover and learn the features of the culture. For this, the researcher participates in a community for an extended period.

Case Study Model

The case study research model focuses on one target or subject and studies it as a whole. Data related to the subject is collected through various online and offline resources. It includes interviews, literature review, and theories used to understand and analyze the data.

Interviews

An in-depth interview is a face-to-face session where a researcher learns about different concepts. It may include structured, unstructured, or semi-structured questions.

Focus Groups

This type of research involves small group discussions that are designed to target a specific issue. Each group member expresses their point of view on a chosen topic and gathers ideas for conducting future research.

Literature Review

Literature review is the study and analysis of previous studies and research. It helps in shaping your personal research work and provides a groundwork for it.
Qualitative vs. Quantitative Research Questions
The questions suggest the direction of research work. Here are some questions of qualitative vs. quantitative research.
Quantitative Research Questions
Below are the quantitative research questions:
Questions start from 'how,' 'what,' and 'why.'
Each question contains a dependent and independent variable and shows a relationship between them.
These questions are of three types: predictive, casual, and descriptive.
Have a look at the following quantitative research question examples:
What is the relationship between disposable income and location amongst adults between the age of 20-30?
How many people downloaded the latest mobile application last year?
Qualitative Research Questions
The following are the qualitative research questions:
Quantitative research questions start with 'what' or 'how.'
It shows what the study will describe, explore or discover.
It contains words like experience, meaning, stories, and understanding.
The sub-questions are more specific.
Check out the below-given qualitative research question examples:
What is the effect of personal technology on today's youth?
How do students at our school spend their weekends?
Qualitative vs. Quantitative Research Pros and Cons
Here are the pros and cons of both qualitative research vs. quantitative research.
Quantitative Research
The pros of quantitative research are as follows:
It allows the researcher to measure the collected data.
The researcher is objective about the findings of a research study.
It can measure data by using statistics and test the hypothesis through experiments.
It studies a relationship between dependent and independent variables.
The cons of the quantitative research include:
This type of research cannot study concepts in natural settings.
It cannot study a large sample.
The complexity and the cost of research are increased to get accurate results.
Qualitative Research
Here are the pros of qualitative research:
The researcher is unsure about what to study.
It gets detailed data in the form of evidence and examples.
It focuses more on social context.
The following are the cons of qualitative research:
It is a time-taking process that can last for months or years.
It provides a subjective view of the study and participants.
The researcher can analyze the study according to biased opinions.
Qualitative Research vs. Quantitative Research - Comparison Chart
While qualitative research is based on written and spoken narratives, quantitative research is based on numbers and calculations. Following is the comparison chart to clearly understand how these two are similar and different from each other.
| | | |
| --- | --- | --- |
| Comparison Based on | Qualitative Research | Quantitative Research |
| Purpose | It is to explain the rich and insightful understanding of a particular phenomenon | It is to explain, predict and control a phenomenon |
| Hypotheses | Based on a particular study | Prior to a particular study |
| Sampling | Purposive | Random |
| Design and Method | Flexible and generally specified | Inflexible and specified in detail |
| Data Analysis | Raw data is in words | Raw data is in numbers |
Qualitative vs. Quantitative Research Examples
Have a look at the following examples of both types of research to understand better.
Quantitative vs. qualitative research has always been a hot topic. Researchers and students are in search of the research method that benefits their work the best. Both types are also used for research projects involving both the description and statistical parts.
Still, having difficulty understanding which type would be best for your research? The best solution is to hire professional help for your paper from a professional ' write my essay' service.
At 5StarEssays.com, you can contact an expert writer and get your custom paper written according to your paper requirement.
Thus, place your order to get an A-worthy research paper now.
Frequently Asked Questions
Which is easier quantitative or qualitative research?
In general, quantitative research is easier to conduct and analyze. But, it needs more participants than the ones needed for qualitative research.